Investigation of the clinical behaviors of pediatric dentists working in Turkey during the normalization period of the COVID-19 Pandemic
Keywords:
COVID-19, Clinical behavior, Pediatric dentistry, Prevention
Abstract
Objective: Our aim is to investigate the clinical attitudes and behaviors of pediatric dentists during the new normalization period of the COVID-19 pandemic.
Materials and methods: Our study was conducted online among pediatric dentistry specialists working in Turkey and a total of 256 people participated. According to personal information, the six questions asked in the second part were analyzed in terms of physicians' adaptation to the new normal order, clinical arrangements, measures to be taken, and their approaches to treatment procedures.
Results: The responses to the option "my anxiety has decreased and I have learned to live with this situation" were mostly found in women (42.86%), those with a working period of 1-5 years (42.11%) and pediatric dentists aged 20-25 years (42.86%). In our study, it was observed that ART was practiced more in public hospitals (100%) compared to university and private hospitals. It was observed that 73.91% of pediatric dentists working in university hospitals preferred panoramic films. This rate was significantly higher than those working in state and private hospitals.
Conclusions: It was observed that the pediatric dentists participating in our study acted in accordance with the precautions and measures during the new normalization period. In this process, procedures that produce less aerosol were preferred more frequently.
References
Zhu N, Zhang D, Wang W, Li X, Yang B, Song J, et al. A Novel Coronavirus from Patients with Pneumonia in China, 2019. N Engl J Med. 2020;382(8):727–33.
Senel FÇ. COVID-19 Salgınının Diş Hekimliği Uygulamalarına Etkisi. ADO Klinik Bilimler Derg. 2021;10(1): 1-12.
Baghizadeh Fini M. What dentists need to know about COVID-19. Oral Oncol. 2020;105:104741.
Gurzawska-Comis K, Becker K, Brunello G, Gurzawska A, Schwarz F. Recommendations for Dental Care during COVID-19 Pandemic. J Clin Med. 2020;9(6):1–15.
Habas K, Nganwuchu C, Shahzad F, Gopalan R, Haque M, Rahman S, et al. Resolution of coronavirus disease 2019 (COVID-19). Expert Rev Anti Infect Ther. 2020;18(12):1201–11.
Tee ML, Tee CA, Anlacan JP, Aligam KJG, Reyes PWC, Kuruchittham V, et al. Psychological impact of COVID-19 pandemic in the Philippines. J Affect Disord. 2020;277:379–91.
Şahin MK, Aker S, Şahin G, Karabekiroğlu A. Prevalence of Depression, Anxiety, Distress and Insomnia and Related Factors in Healthcare Workers During COVID-19 Pandemic in Turkey. J Community Health. 2020;45(6):1168-77.
Gardelis P, Ebersberger R, Zekeridou A, Giannopoulou C. Clinical Attitudes, Behaviors and Perceived Stress Towards the COVID-19 Pandemic: A Questionnaire Survey among Swiss Dentists. Oral Heal Prev Dent. 2022;20:379–84.
Absawi MK, Fahoum K, Costa L, Dror AA, Bernfeld NM, Oren D, et al. COVID-19 induced stress among dentists affecting pediatric cooperation and alter treatment of choice. Adv in Oral Maxillofac Surg. 2022;5:100212.
Duruk G, Gümüşboğa ZŞ, Çolak C. Investigation of Turkish dentists' clinical attitudes and behaviors towards the COVID-19 pandemic: a survey study. Braz Oral Res. 2020;34:e054.
Koç Y, Akyüz S, Akşit-Bıçak D. Clinical Experience, Knowledge, Attitudes and Practice of Turkish Pediatric Dentists during the COVID-19 Pandemic. Medicina (Kaunas). 2021;57(11):1140.
Tarakji B, Nassani MZ, Alali FM, Alsalhani AB, Alqhtani NR, Nabhan A Bin, et al. COVID-19-Awareness and Practice of Dentists in Saudi Arabia. Int J Environ Res Public Health. 2021;18(1):1–9.
Wolf TG, Zeyer O, Campus G. COVID-19 in Switzerland and Liechtenstein: A Cross-Sectional Survey among Dentists' Awareness, Protective Measures and Economic Effects. Int J Environ Res Public Health. 2020;17(23):1–12.
Alsaleh MM, Sabbarini JM, Al-Batayneh OB, Khader YS. Changes in Behavior Management and Treatment Modalities in Pediatric Dentistry during COVID-19 Pandemic. Int J Clin Pediatr Dent. 2020;13:S125.
Alamoudi RA, Basudan S, Mahboub M, Baghlaf K. Impact of COVID-19 Pandemic on Dental Treatment in Children: A Retrospective Cross-Sectional Analysis in Jeddah City. Clin Cosmet Investig Dent. 2022;14:95–102.
Masri A Al, Abudrya MH, Splieth CH, Schmoeckel J, Mourad MS, Santamaría RM. How did the COVID-19 pandemic lockdown affect dental emergency care in children? Retrospective study in a specialized pedodontic center. Quintessence Int (Berl). 2021;52(9):788–96.
Falahchai M, Babaee Hemmati Y, Hasanzade M. Dental care management during the COVID-19 outbreak. Spec Care Dentist. 2020;40(6):539–48.
Moheb D, Nasr RA, Azab MM. Pediatric Dentists in the Time of COVID-19 Pandemic; the Challenges and Burden. Egypt Dent J. 2021;67:85–99.
Ammar N, Aly NM, Folayan MO, Mohebbi SZ, Attia S, Howaldt HP, et al. Knowledge of dental academics about the COVID-19 pandemic: a multi-country online survey. BMC Med Educ. 2020;20(1):399.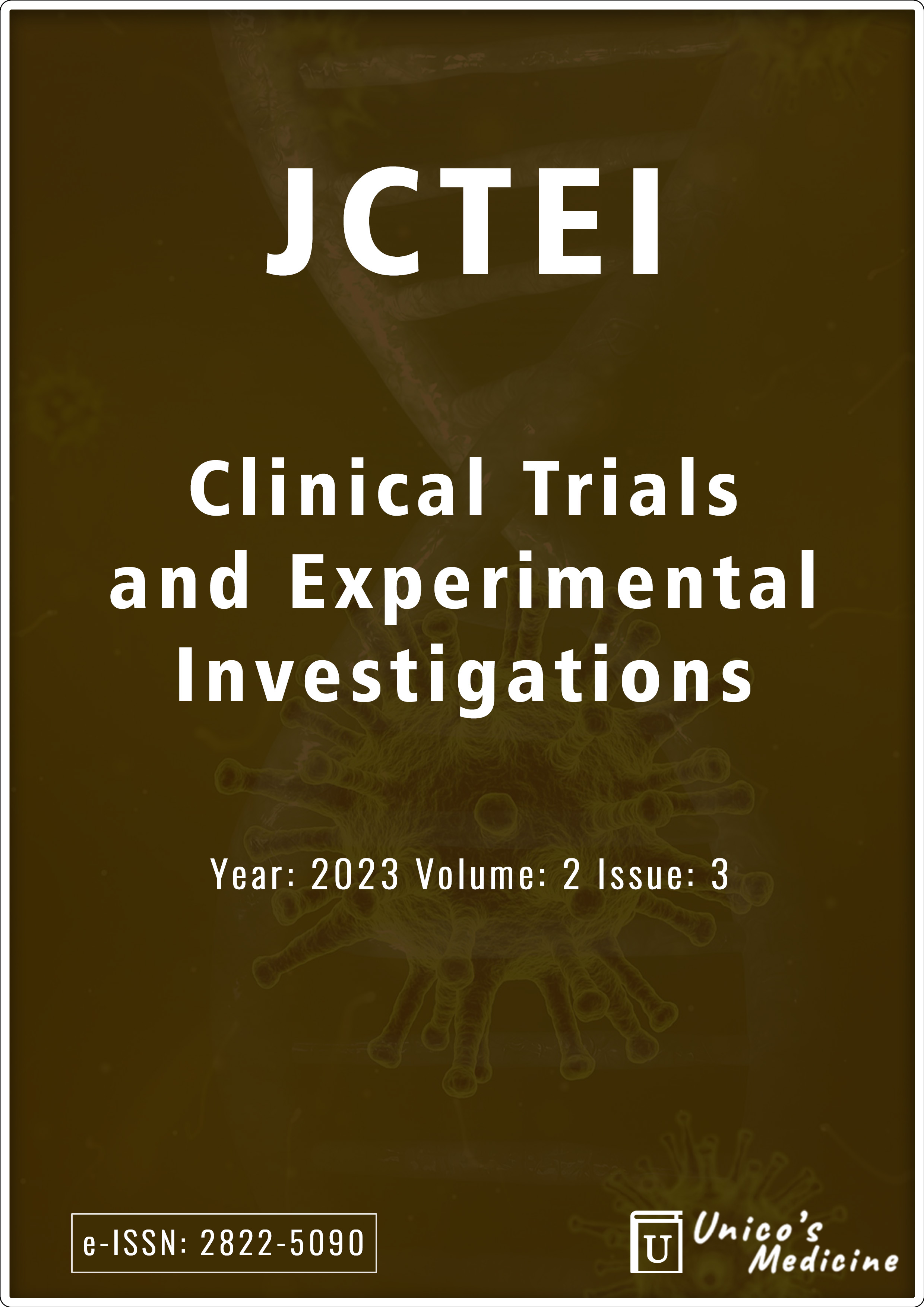 How to Cite
1.
Celer AM, Tumen EC. Investigation of the clinical behaviors of pediatric dentists working in Turkey during the normalization period of the COVID-19 Pandemic. J Clin Trials Exp Investig [Internet]. 2023 Aug. 4 [cited 2023 Oct. 4];2(3):130-7. Available from: https://jctei.com/index.php/jctei/article/view/63
Section
ORIGINAL ARTICLES
License
Copyright (c) 2023 Journal of Clinical Trials and Experimental Investigations
This work is licensed under a Creative Commons Attribution 4.0 International License.
 The journal is licensed under a Attribution4.0 International (CC BY 4.0).