Laryngeal mask anesthesia during surgical treatment of pediatric patients with hydrocephalus
Keywords:
Anesthesia, Hydrocephalus, Laryngeal mask anesthesia, Ventriculoperitoneal shunt
Abstract
Objective: In hydrocephalic patients, peri-operative processes that reduce the risk of complications due to difficult intubation are essential. With this study, perioperative process evaluation of laryngeal mask and endotracheal intubation as an airway method in pediatric hydrocephalus patients is appropriately targeted for hydrocephalus patient management.
Materials and methods: This retrospective study included patients diagnosed with hydrocephalus who underwent surgical treatment using a ventriculoperitoneal shunt. The study sample was divided two groups [endotracheal intubation (EI) and laryngeal mask (LMA)] based on the method of anesthesia administration.
Results: The study included 81 patients with a mean age of 11.0 ± 30.604 months. No significant differences in age, number of surgeries, body mass index, head circumference, incidence of laryngeal spasms, surgical duration, and volume of air leakage were observed between the groups. However, the duration of anesthesia (p-value = 0.000), hospital and intensive care stay (p-values = 0.007 and 0.049, respectively), and airway establishment (p-value = 0.049) were significantly shorter in the LMA group. Moreover, the number of attempts required for airway establishment was also low in this group (p-value = 0.033).
Conclusions: LMA, when used appropriately, can minimize the need for post-operative intensive care, shorten the length of hospital stay, enable early nutrition, and reduce the risk of hypothermia in pediatric patients with high risk of comorbidities. Moreover, this procedure can also potentially be life-saving during the peri-operative period, particularly in high-risk patients that are difficult to intubate and exhibit higher rates of comorbidities.
References
Saracoglu A, Saracoglu K, Erenler F, Canaz H, Kızılay D, Kafalı IH. The evaluation of difficult intubation risk in children with hydrocephalus undergoing shunt surgery: a prospective controlled study. Kocaeli Med J. 2020;9(2):105-10.
Akçıl EF, Dilmen ÖK, Tunalı Y. Anaesthetic management in Costello syndrome. Turk J Anaesthesiol Reanim. 2015;43(6):427-30.
Holm-Knudsen RJ, Rasmussen LS. Paediatric airway management: basic aspects. Acta Anaesthesiol Scand. 2009;53(1):1-9.
Vagyannavar R, Bharti V, Hashim M. Difficult airway in a case of gross hydrocephalus for shunt surgery. Anesth Essays Res. 2017;11(4):1109-11.
Janssens M, Lamy M. Laryngeal mask. Intensive Care World. 1993;10:99-102.
Jimenez N, Posner KL, Cheney FW, Caplan RA, Lee L, Domino KB. An update on pediatric anesthesia liability: a closed claims analysis. Anesth Analg. 2007;104(1):147-53.
Mamie C, Habre W, Delhumeau C, Argiroffo CB, Morabia A. Incidence and risk factors of perioperative respiratory adverse events in children undergoing elective surgery. Pediatr Anesth. 2004;14(3):218-24.
Westerkamp AC, de Geus AF, Molenbuur B, Meyer P, Wietasch JKG, Struys MM, et al. Comparing perioperative complications of paediatric and adult anaesthesia: a retrospective cohort study of 81267 cases. Eur J Anaesthesiol. 2008;35(4):280-8.
Goni-Zaballa M, Perez-Ferrer A, Charco-Mora P. Difficult airway in a pediatric patient with Klippel-Feil syndrome and unexpected lingual tonsil. Minerva Anesthesiol. 2012;78(2):254-7.
Suh SH, Okutani R, Nakasuji M, Nakata K. Anesthesia in a patient with mucopolysaccharidosis type VI (Maroteaux-Lamy syndrome). J Anesth. 2010;24(6):945-8.
Hamid RK, Newfield P. Pediatric neuroanesthesia. Hydrocephalus. Anesthesiol Clin North America. 2001;19(2):207-18.
Ferrari L, Leahy I, Staffa SJ, Berry JG. The Pediatric-Specific American Society of Anesthesiologists Physical Status Score: a multicenter study. Anesth Analg. 2021;132(8):807-17.
Liptak GS, Garver K, Dosa NP. Spina bifida grown up. J Dev Behav Pediatr. 2013;34(3):206-15.
Koumbourlis AC. Scoliosis and the respiratory system. Paediatr Respir Rev. 2006;7(2):152-60.
Pillai SV. Techniques and nuances in ventriculoperitoneal shunt surgery. Neurol India. 2021;69:471-5.
Sessler DI. Perioperative thermoregulation and heat balance. Lancet. 2016;387(10038):2655-64.
Murphy GS, Brull SJ. Residual neuromuscular block: lessons unlearned. Part I: Definitions, incidence, and adverse physiologic effects of residual neuromuscular block. Anesth Analg. 2010;111(1):120-8.
Thilen SR, Weigel WA. Neuromuscular blockade monitoring. Anesthesiol Clin. 2021;39(3):457-76.
Murphy GS, Szokol JW, Marymont JH, Greenberg SB, Avram MJ, Vender JS. Residual neuromuscular blockade and critical respiratory events in the postanesthesia care unit. Anesth Analg. 2008;107(1):130-7.
Arslan D, Yıldızdas RD, Horoz OO, Aslan N, Coban Y, Altunbasak S, et al. Evaluation of Critical Illness Polyneuropathy/Myopathy in Pediatric Intensive Care Unit. J Pediatr Emerg Intensive Care Med. 2020;7:108-11.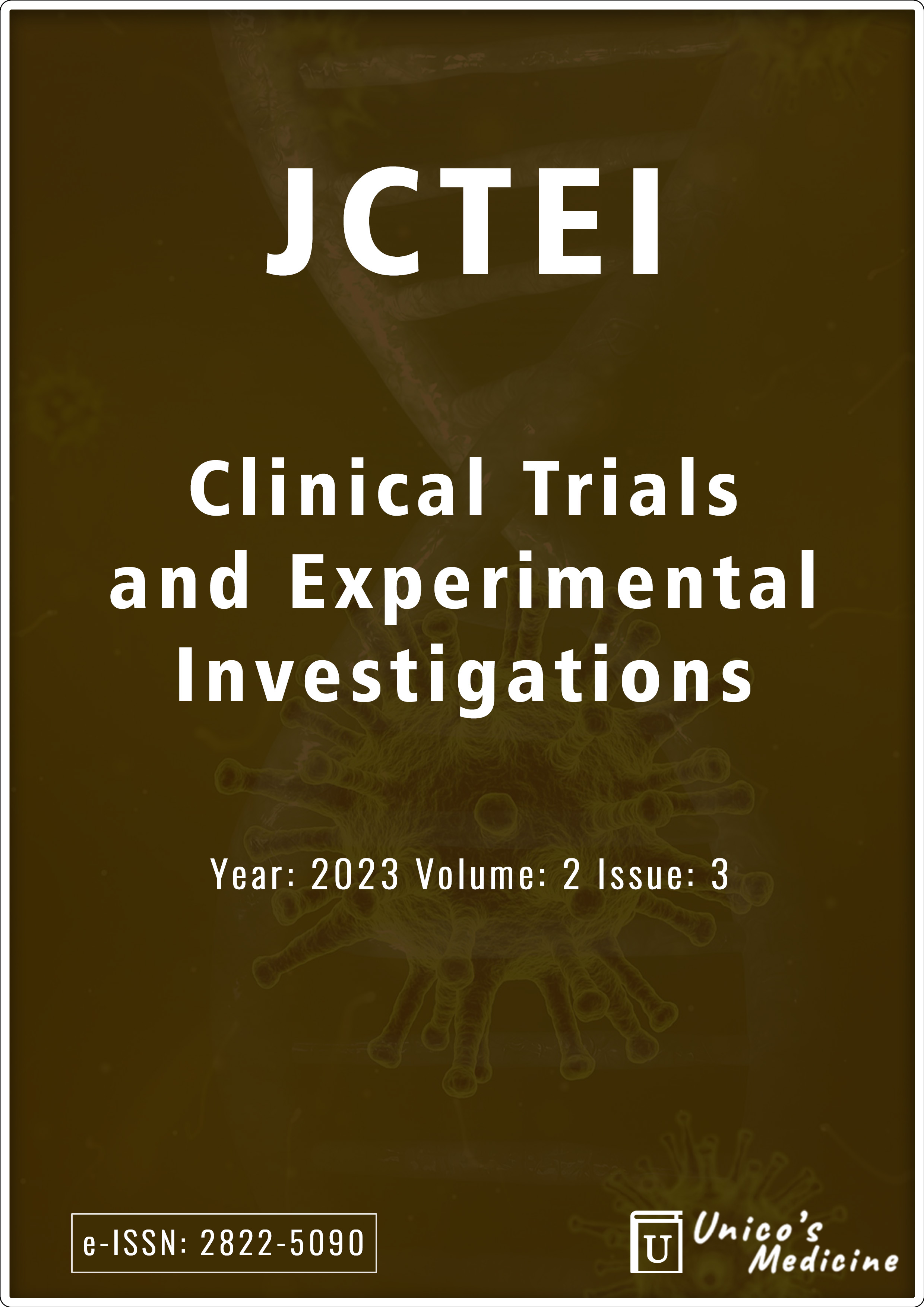 How to Cite
1.
Aktiz Bicak E, Arpa A. Laryngeal mask anesthesia during surgical treatment of pediatric patients with hydrocephalus. J Clin Trials Exp Investig [Internet]. 2023 Aug. 29 [cited 2023 Oct. 4];2(3):153-8. Available from: https://jctei.com/index.php/jctei/article/view/70
Section
ORIGINAL ARTICLES
License
Copyright (c) 2023 Journal of Clinical Trials and Experimental Investigations
This work is licensed under a Creative Commons Attribution 4.0 International License.
 The journal is licensed under a Attribution4.0 International (CC BY 4.0).