Analysis of endoscopic and histopathological features of gastric polyps
Keywords:
Atrophic gastritis, Gastric polyps, H.pylori, Intestinal metaplasia
Abstract
Objective: Gastric polyps are sessile or pedunculated lesions that originate from the gastric epithelium or submucosa and protrude towards the lumen, with a rate of 2-6%. There is a risk of malignant transformation in gastric polyps. In our study, we aimed to evaluate the characteristics of gastric polyps in our region.
Materials and methods: The study was carried out with the retrospective evaluation of esophagogastroduodenoscopy performed in the Gastroenterology clinic of our hospital between July 2020 and June 2022.
Results: Esophagogastroduodenoscopy was performed in a total of 2669 patients, and 182 polyps detected in 96 patients were examined. Thirty-six (37.5%) of the patients were male, 60 (62.5%) were female, and the median age was 59 (22-88). Sixty-two (34%) of the polyps were in the antrum, 109 (59.9%) were in the corpus, and 11 (6.1%) were in the fundus. Histopathologically, 151 (83%) polyps were hyperplastic polyps, 4 (2.2%) adenomas, 24 (13.2%) fundic gland polyps, and 3(1.6%) neuroendocrine tumors. There was no statistical relationship between gender and intestinal metaplasia, atrophy and hp positivity. There was also no statistical relationship between hp positivity and intestinal metaplasia.
Conclusions: The frequency, anatomical locations and histopathological types of gastric polyps may vary according to the geographical region where the study is performed. In our study, polyps were most common in the corpus and most of them were hyperplastic. Unlike colorectal hyperplastic polyps, gastric hyperplastic polyps have the potential to become malignant. it would be appropriate to remove all gastric polyps and examine them histopathologically.
References
Carmack SW, Genta RM, Schuler CM, Saboorian MH. The current spectrum of gastric polyps: a 1-year national study of over 120,000 patients. Am J Gastroenterol. 2009;104(6):1524–32.
García-Alonso FJ, Martín-Mateos RM, González Martín JA, Foruny JR, Vázquez-Sequeiros E, Boixeda de Miquel D. Gastric polyps: analysis of endoscopic and histological features in our center. Rev Esp Enferm Dig. 2011;103(8):416–20.
Laxén F, Sipponen P, Ihamäki T, Hakkiluoto A, Dortscheva Z. Gastric polyps; their morphological and endoscopical characteristics and relation to gastric carcinoma. Acta Pathol Microbiol Immunol Scand A. 1982;90(3):221–8.
Carmack SW, Genta RM, Graham DY, Lauwers GY. Management of gastric polyps: a pathology-based guide for gastroenterologists. Nat Rev Gastroenterol Hepatol. 2009;6(6):331–41.
Secemsky BJ, Robinson KR, Krishnan K, Matkowskyj KA, Jung BH. Gastric hyperplastic polyps causing upper gastrointestinal hemorrhage in a young adult. World J Clin Cases. 2013;1(1):25–7.
Oberhuber G, Stolte M. Gastric polyps: an update of their pathology and biological significance. Virchows Arch. 2000;437(6):581–90.
Aydin I, Ozer E, Rakici H, Sehitoglu I, Yucel AF, Pergel A, et al. Antral hyperplastic polyp: A rare cause of gastric outlet obstruction. Int J Surg Case Rep. 2014;5(6):287–9.
Al-Haddad M, Ward EM, Bouras EP, Raimondo M. Hyperplastic polyps of the gastric antrum in patients with gastrointestinal blood loss. Dig Dis Sci. 2007;52(1):105–9.
Akkuzu MZ, Sezgin O, Ucbilek E, Ozdogan O, Yaras S, Aydın F, et al. Gastric Polyps: 3rd Stage Gastroenterology Center Results in the Eastern Mediterranean. Kocaeli Med J. 2021;10(2):72-7.
Ginsberg GG, Al-Kawas FH, Fleischer DE, Reilly HF, Benjamin SB. Gastric polyps: relationship of size and histology to cancer risk. Am J Gastroenterol. 1996;91(4):714-7.
Han AR, Sung CO, Kim KM, Park CK, Min BH, Lee JH, et al. The clinicopathological features of gastric hyperplastic polyps with neoplastic transformations: a suggestion of indication for endoscopic polypectomy. Gut Liver. 2009;3(4): 271-5.
Roseau G, Ducreux M, Molas G, Ponsot P, Amouyal P, Palazzo L, et al. Epithelial gastric polyps in a series of 13000 gastroscopies. Presse Med 1990;19(14):650–4.
Gencosmanoglu R, Sen-Oran E, Kurtkaya-Yapicier O, Avsar E, Sav A, Tozun N. Gastric polypoid lesions: analysis of 150 endoscopic polypectomy specimens from 91 patients. World J Gastroenterol. 2003;9(10):2236-9.
Olmez S, Sayar S, Saritas B, Savas AY, Avcioglu U, Tenlik I, et al. Evaluation of patients with gastric polyps. North Clin Istan.2018;5(1):41-4.
Vatansever S, Akpınar Z, Alper E, İpek S, Yazıcıoğlu N, Ekinci N, et al. Gastric polyps and polypoid lesions: Retrospective analysis of 36650 endoscopic procedures in 29940 patients. Turk J Gastroenterol 2015;26(2):117–22.
Morais DJ, Yamanaka A, Zeitune JM, Andreollo NA. Gastric polyps: a retrospective analysis of 26,000 digestive endoscopies. Arq Gastroenterol 2007;44(1):14–7.
Molaei M, Mashayekhi R, Zojaji H, Haghazali M, Zali MR. Gastric polypoid lesions: analysis of histopathologic features of 107 endoscopic polypectomy specimens. Gastroenterology and Hepatology From Bed to Bench 2008;1(3):127–32.
Fan NN, Yang J, Sun G, Lu ZS, Ling Hu EQ, Wang XD, et al. Changes in the spectrum of gastric polyps in the Chinese population. World J Gastroenterol 2015;21(33):9758–64.
Melton SD, Genta RM. Gastric cardiac polyps: a clinicopathologic study of 330 cases. Am J Surg Pathol 2010;34(12):1792-7.
Deppish LM, Rona VT. Gastric epithelial polyps: a 10-year study. J Clin Gastroenterol. 1989;11(1):10-5.
Abraham SC, Singh VK, Yardley JH, Wu TT. Hyperplastic polyps of the stomach: associations with histologic patterns of gastritis and gastric atrophy. Am J Surg Pathol. 2001;25(4):500-7.
Demiryilmaz I, Albayrak Y, Yilmaz SP. Frequency of various types of gastric polyp. Cumhuriyet Med J 2011;33:209–14
Karaman A, Deniz K, Karaman H, Gürsoy Ş, Başkol M, Güven K, et al. Prevalence and histopathological condition of gastric polyps in Central Anatolia. Endoskopi Dergisi 2011;19(2): 56–8.
Archimandritis A, Spiliadis C, Tzivras M, Vamvakousis B, Davaris P, Manika Z, et al. Gastric epithelial polyps: a retrospective endoscopic study of 12974 symptomatic patients. Ital J Gastroenterol 1996;28(7):387-90.
Choudhry U, Boyce HW Jr, Coppola D. Proton pump inhibitor-associated gastric polyps: a retrospective analysis of their frequency, and endoscopic, histologic, and ultrastructural characteristics. Am J Clin Pathol 1998;110(5):615-21.
Jain R, Chetty R. Gastric hyperplastik polyps: a review. Dig Dis Sci. 2009;54(9):1839-46.
Jalving M, Koornstra JJ, Wesseling J, Boezen HM, De Jong S, Kleibeuker H. Increased risk of fundic gland polyps during long-term proton pump inhibitor therapy. Aliment Pharmacol Ther 2006;24(9):1341-8.
Stolte M, Sticht T, Eidt S, Ebert D, Finkenzeller G. Frequency, location, and age and sex distribution of various types of gastric polyp. Endoscopy 1994;26(8):659-65.
Kamiya T, Morishita T, Asakura H, Miura S, Munakata Y, Tsuchiya M. Long-term follow-up study on gastric adenoma and its relation to gastric protruded carcinoma. Cancer 1982;50(11):2496-503.
Park DI, Rhee PL, Kim JE, Hyun JG, Kim YH, Son HJ, et al. Risk factors suggesting malignant transformation of gastric adenoma: univariate and multivariate analysis. Endoscopy 2001;33(6):501–6.
Nakamura T, Nakano G. Histopathological classification and malignant change in gastric polyps. J Clin Pathol 1985; 38(7):754-64.
Nam KW, Song KS, Lee HY, Lee BS, Seong JK, Kim SH, et al. Spectrum of final pathological diagnosis of gastric adenoma after endoscopic resection. World J Gastroenterol 2011;17(47):5177–83.
Basuroy R, Srirajaskanthan R, Prachalias A, Quaglia A, Ramage JK. Review article: the investigation and management of gastric neuroendocrine tumours. Aliment Pharmacol Ther. 2014;39(10):1071-84.
Lawrence B, Gustafsson BI, Chan A, Svejda B, Kidd M, Modlin IM. The epidemiology of gastroenteropancreatic neuroendocrine tumors. Endocrinol Metab Clin North Am. 2011;40(1):1-18.
Modlin IM, Latich I, Zikusoka M, Kidd M, Eick G, Chan AK. Gastrointestinal carcinoids: the evolution of diagnostic strategies. J Clin Gastroenterol. 2006;40(7):572-82.
Modlin IM, Lye KD, Kidd M. A 50-year analysis of 562 gastric carcinoids: small tumor or larger problem? Am J Gastroenterol. 2004;99(1):23-32.
Soytürk M, Akkaya Özdinç S, Sarıoğlu S, Sagol O, Hakim GD, Topalak O, et al. Location of endoscopic examination-detected gastric polyps, histopathological types and association with Helicobacter pylori. Endoskopi. 2012;20:1-4.
Pike IM, Vicari J. Incorporating quality measurement and improvement into a gastroenterology practice. Am J Gastroenterol. 2010;105(2):252-4.
Cohen LB. Production pressure in endoscopy: balancing quantity and quality. Gastroenterology. 2008;135(6):1842-4.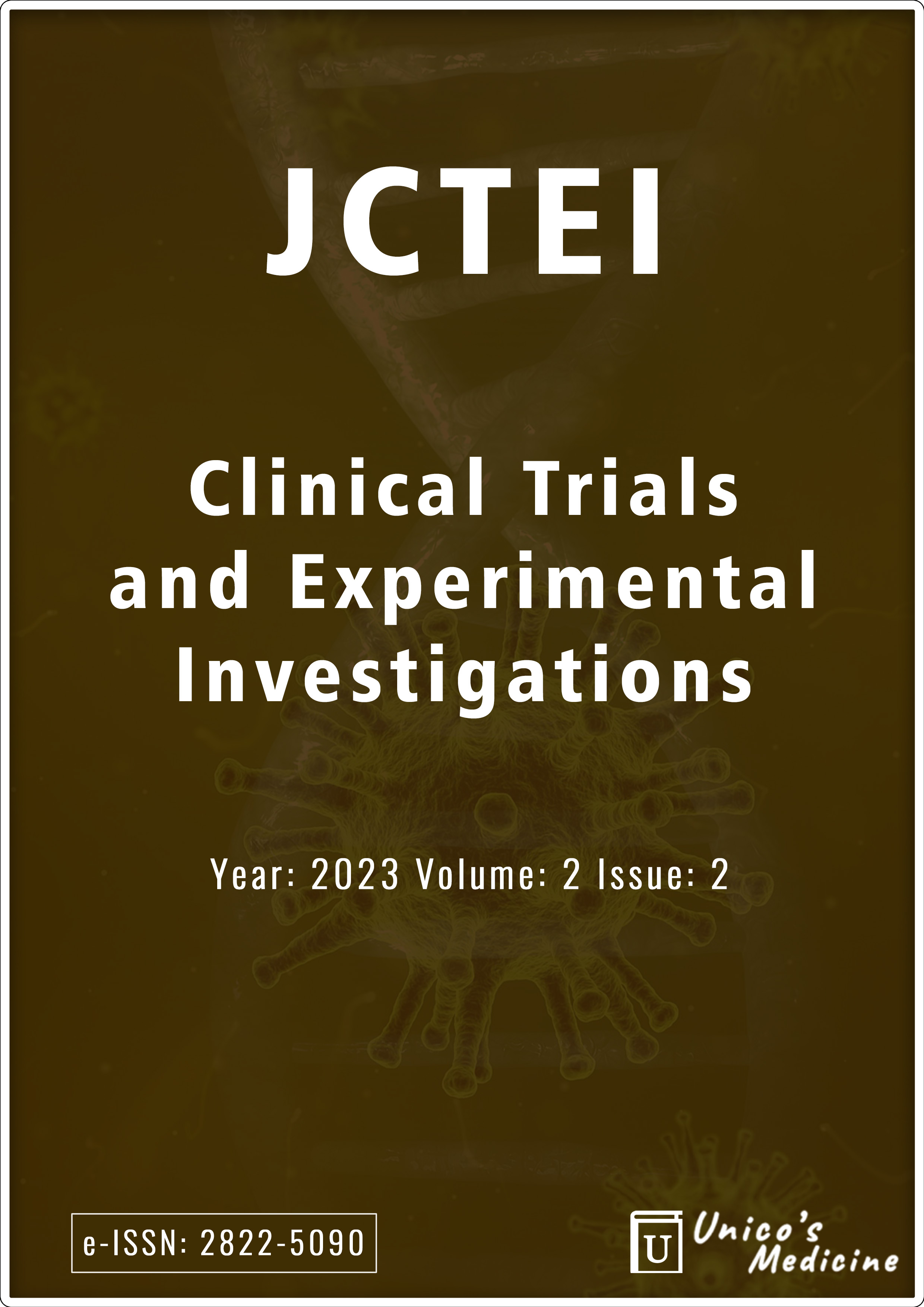 Downloads
How to Cite
1.
Avcı E, Aliyazıcıoglu M. Analysis of endoscopic and histopathological features of gastric polyps . J Clin Trials Exp Investig [Internet]. 2022 May 19 [cited 2023 Jun. 8];2(2):60-5. Available from: https://jctei.com/index.php/jctei/article/view/53
Section
ORIGINAL ARTICLES
License
Copyright (c) 2023 Journal of Clinical Trials and Experimental Investigations
This work is licensed under a Creative Commons Attribution 4.0 International License.
 The journal is licensed under a Attribution4.0 International (CC BY 4.0).