The place of ChatGPT in the future of dental education
Keywords:
ChatGPT, Dental education, Future oppurtinity
Abstract
Objective:  ChatGPT's applications provide benefits in customer service by providing human-like responses, in creating unique content in different fields and subjects, in rapid language translation, in creating literature reviews and summaries in scientific research, in writing programming codes and analysing large clinical and genomic datasets, in education by offering different perspectives and causing a review of traditional methods, in healthcare applications by optimising workflow, reducing documentation burden and costs, and in the transition to personalised medicine. The objective of this research was to delineate the content produced by ChatGPT when prompted to outline the advantages and disadvantages of utilising ChatGPT in dental education.
Materials and methods: In the correspondence with ChatGPT, the place of ChatGPT in dental education, the advantages of using ChatGPT, the possible risks and difficulties that may arise, possible strategies to overcome the difficulties that may arise with the implementation of ChatGPT in the educational process were discussed.
EEÇ: What is the role of generative language models in dental education?
ChatGPT: Overall, dental students can use ChatGPT as a versatile and useful tool to improve their understanding of dental concepts, enhance their communication skills, and improve their writing abilities.
Results. The efficacy of ChatGPT in dental education can be linked to its capability to simplify intricate concepts and terminologies into more comprehensible elements, fortified by interactive explanations and demonstrations. The use of language models like ChatGPT in healthcare education requires cautious evaluation and an evidence-driven approach, as additional research is needed to overcome possible limitations resulting from their application.
Conclusions: ChatGPT can be used by dental students as a versatile and useful tool to better understand dental concepts, improve their communication skills, and enhance their writing abilities.
References
Turing AM. Computing machinery and intelligence. Mind. Springer Netherlands; 1950;LIX(236):433-60.
Weizenbaum J. ELIZA—a computer program for the study of natural language communication between man and machine. Communications of the ACM. 1966;9(1):36-45.
Güzeldere G, Franchi S. Dialogues with colorful "personalities" of early AI. Stanford Humanities Review. 1995;4(2):161-9.
Saygin AP, Cicekli I, Akman V. Turing test: 50 years later. Minds and machines. 2000;10(4):463-518.
Rahman AM, Mamun AA, Islam A. Programming challenges of chatbot: Current and future prospective. In: 2017 IEEE Region 10 Humanitarian Technology Conference (R10-HTC); 2017. p. 75–8.
Ranoliya BR, Raghuwanshi N, Singh S. Chatbot for university related FAQs. In: 2017 International Conference on Advances in Computing, Communications and Informatics (ICACCI); 2017 Sep. p. 1525-30.
Zhou L, Gao J, Li D, Shum HY. The design and implementation of xiaoice, an empathetic social chatbot. Computational Linguistics. 2020;46(1):53-93.
ChatGPT statistics 2023: trends and the future perspectives. Gitnux [Internet]. 2023 Mar 01. Available from: https://blog.gitnux.com/chat-gpt-statistics/.
Shahriar S, Hayawi K. Let's have a chat! A Conversation with ChatGPT: Technology, Applications, and Limitations. arXiv preprint. 2023;2302.13817.
Eysenbach G. The role of ChatGPT, generative language models, and artificial intelligence in medical education: a conversation with ChatGPT and a call for papers. JMIR Medical Education. 2023;9(1):e46885.
Sallam M. The utility of ChatGPT as an example of large language models in healthcare education, research and practice: Systematic review on the future perspectives and potential limitations. medRxiv. 2023;2023-02.
Sallam M, Salim N, Barakat M, Al-Tammemi A. ChatGPT applications in medical, dental, pharmacy, and public health education: A descriptive study highlighting the advantages and limitations. Narra J. 2023;3(1):e103.
Gilson A, Safranek CW, Huang T, Socrates V, Chi L, Taylor RA, Chartash D. How does CHATGPT perform on the United States Medical Licensing Examination? the implications of large language models for medical education and knowledge assessment. JMIR Medical Education. 2023;9(1):e45312.
Kung TH, Cheatham M, Medenilla A, Sillos C, De Leon L, Elepaño C, et al. Performance of ChatGPT on USMLE: Potential for AI-assisted medical education using large language models. PLoS digital health. 2023;2(2):e0000198.
Choi JH, Hickman KE, Monahan A, Schwarcz D. ChatGPT goes to law school (2023). Available from: https://papers.ssrn.com/sol3/papers.cfm?abstract_id=4335905.
Open AI. Open AI: Models GPT-3.5 [Internet]. 2023 Mar 19. Available from: https://platform.openai.com/docs/models.
Qadir, Junaid (2022). Engineering Education in the Era of ChatGPT: Promise and Pitfalls of Generative AI for Education. TechRxiv. Preprint. https://doi.org/10.36227/techrxiv.21789434.v1
Tabish SA. Assessment methods in medical education. International journal of health sciences. 2008;2(2):37.
Frenk J, Chen L, Bhutta ZA, Cohen J, Crisp N, Evans T, et al. Health professionals for a new century: transforming education to strengthen health systems in an interdependent world. The lancet. 2010;376(9756):1923-58.
Guze PA. Using technology to meet the challenges of medical education. Transactions of the American clinical and climatological association. 2015;126:260.
Hou J, Michaud C, Li Z, Dong Z, Sun B, Zhang J, et al. Transformation of the education of health professionals in China: progress and challenges. The Lancet. 2014;384(9945):819-27.
Rosenbaum ME. Dis-integration of communication in healthcare education: Workplace learning challenges and opportunities. Patient education and counseling. 2017;100(11):2054-61.
Zitzmann NU, Matthisson L, Ohla H, Joda T. Digital undergraduate education in dentistry: a systematic review. International journal of environmental research and public health. 2020;17(9):3269.
Suárez A, Adanero A, Díaz-Flores García V, Freire Y, Algar J. Using a Virtual Patient via an Artificial Intelligence Chatbot to Develop Dental Students' Diagnostic Skills. International Journal of Environmental Research and Public Health. 2022;19(14):8735.
Thurzo A, Strunga M, Urban R, Surovková J, Afrashtehfar KI. Impact of artificial intelligence on dental education: a review and guide for curriculum update. Education Sciences. 2023;13(2):150.
Bhutoria A. Personalized education and artificial intelligence in United States, China, and India: A systematic Review using a Human-In-The-Loop model. Computers and Education: Artificial Intelligence. 2022;3:100068.
Rojanasarot S, Milone A, Balestrieri R, Pittenger AL. Personalized learning in an online drugs and US health care system controversies course. American journal of pharmaceutical education. 2018;82(8).
Grunhut J, Wyatt AT, Marques O. Educating future physicians in artificial intelligence (AI): an integrative review and proposed changes. Journal of Medical Education and Curricular Development. 2021;8:23821205211036836.
Hassani H, Amiri Andi P, Ghodsi A, Norouzi K, Komendantova N, Unger S. Shaping the future of smart dentistry: From Artificial Intelligence (AI) to Intelligence Augmentation (IA). IoT. 2021;2(3):510-23.
Gerke S, Minssen T, Cohen G. Ethical and legal challenges of artificial intelligence-driven healthcare. In: Artificial intelligence in healthcare. Academic Press; 2020. p. 295-336.
Hasal M, Nowaková J, Ahmed Saghair K, Abdulla H, Snášel V, Ogiela L. Chatbots: Security, privacy, data protection, and social aspects. Concurrency and Computation: Practice and Experience. 2021;33(19):e6426.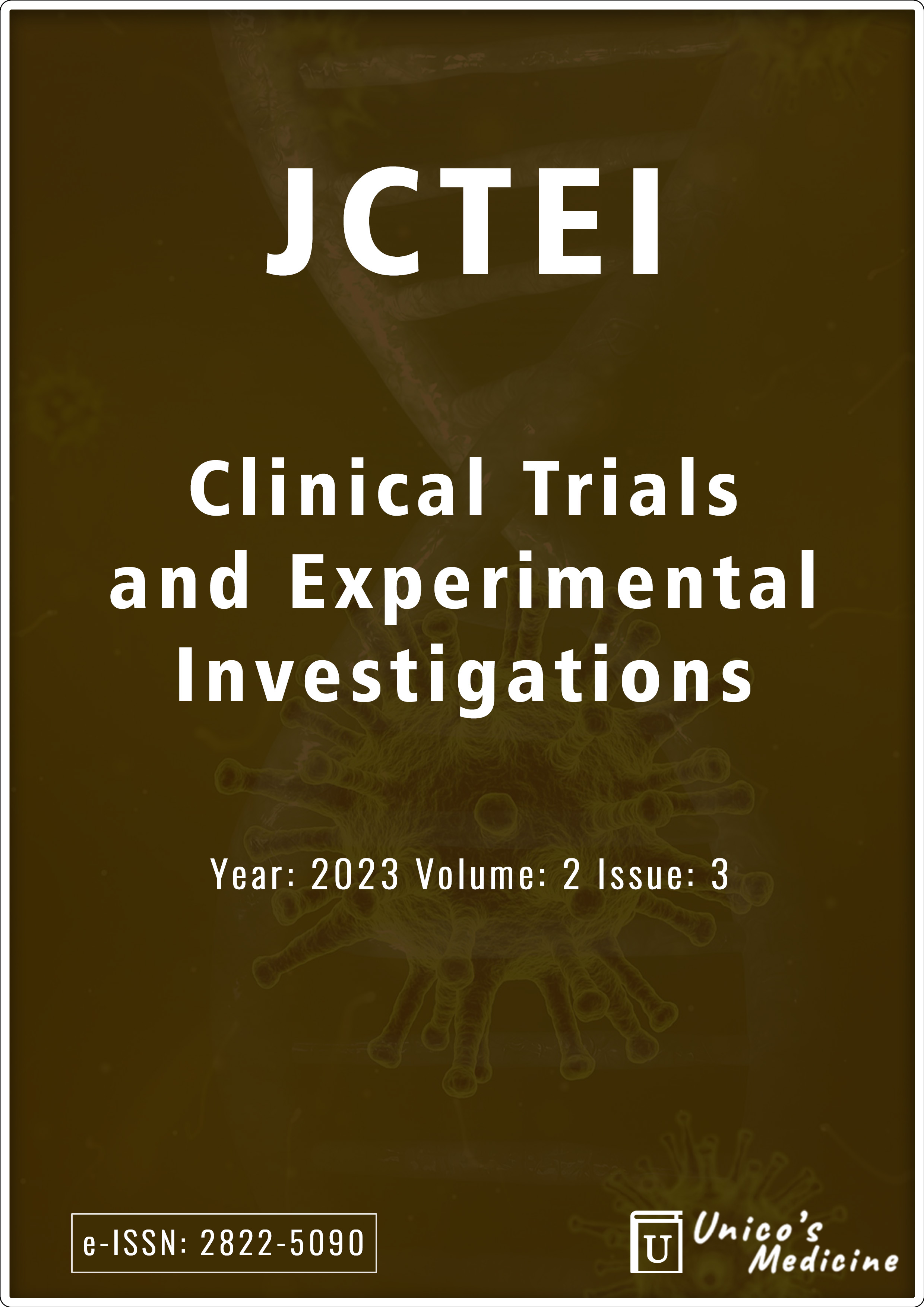 How to Cite
1.
Eroğlu Çakmakoğlu E. The place of ChatGPT in the future of dental education. J Clin Trials Exp Investig [Internet]. 2023 Aug. 3 [cited 2023 Oct. 4];2(3):121-9. Available from: https://jctei.com/index.php/jctei/article/view/56
Section
ORIGINAL ARTICLES
License
Copyright (c) 2023 Journal of Clinical Trials and Experimental Investigations
This work is licensed under a Creative Commons Attribution 4.0 International License.
 The journal is licensed under a Attribution4.0 International (CC BY 4.0).